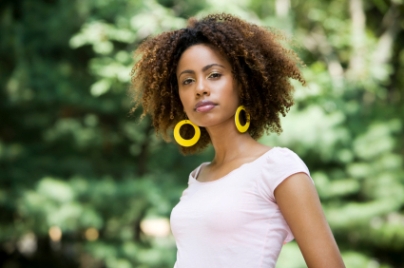 This isn't me in case you're confused (!).
Many of you know that I've been waffling back and forth trying to decide what to do with my
hair
. The only thing I was sure of was that I was tired of the brittle, broken, unhealthy mass that sat on my head and dared call itself hair. I stopped relaxing it in January, but still couldn't commit to cutting it. There were patches at the top and back where my hair had just fallen out. Still, I couldn't cut it.
I searched the internet for hours to see what could be done with very short, very curly, natural hair. I searched for ways to make it grow strong and healthy. I searched for ways to make me feel good about the whole process. I must have spent 20 hours total combing the internet, no pun intended. Then, on Tuesday, May 3 I said, "I'm done!" I called a friend and asked her to cut it all off.
So now, I sit here with very short, very curly, un-relaxed, natural hair...and I LOVE IT! Sure, I was afraid to leave the house the first two days, but I got over that. Today, in fact. I'm so proud of myself for even walking out the door and allowing other people to see me with the shortest hair I've had since my oldest son was a baby, and
never
was it natural. No, that's not true. My hair was natural up until about age eleven, so that's 28 years since then.
Lots of new beginnings happening for me.
While I was doing my research on natural hair, I came across some disturbing trends in the "Natural Hair" world. It seems that in their quest for hair freedom, many women have come out on the other extreme of self-hatred. I found that many women who were "happily" natural find it necessary to look down their noses on women who are not. They call them "slaves to the perm" and proclaim that women who relax their hair are addicted to "that creamy crack." One woman who has a YouTube channel and website devoted to giving tutorials for natural hairstyles and selling all-natural hair care products received a horrible backlash when her website offered colorful fake hair clip-ons.
How can she be natural with a piece of fake hair in her head?
they asked.
Are they serious?
I find it very disturbing that a group of women who supposedly decided to embrace their natural hair because they didn't want society or anyone else defining beauty for them are now judging other women for doing the same thing: defining beauty for themselves. Somebody is sorely missing the point.
If I want to embrace my God-given beauty and decide for myself what beauty means to me, that doesn't give me any right to judge what another woman decides is beautiful to her. She has every right to relax, weave, perm her hair as I have not to. Just because my hair is now natural, oh, don't think I won't still put a wig on my head from time to time. I'm still a goddess, after all.
It's my choice. And no one has a right to take it away from me. Don't let others judge you for your choices. Good or bad, they belong to you.
Until next week(ish),
Feed on love, subsist on peace.
P.S. I'm rocking that Ph.D course! Just got 100% on my first exam. Yay me!